When it comes to decorating a first birthday party, choosing a theme and matching colour scheme will really help you create a cohesive and striking look. When deciding on a theme, think of something that is special to your little one. For example:
A TV show or book that your child enjoys
A favourite toy or activity
A child-friendly motif (eg: rubber duck, ladybug)
An aspect of their personality (eg: Little Miss Sunshine, bouncy Tigger)
A favourite nursery rhyme or song
Here are ten themes that are just right for first birthdays.
Little Miss Sunshine
If your baby is a little ray of sunshine, then this theme will suite them perfectly. Put together pink and yellow party supplies, add some printable sun motifs, and perhaps incorporate some sunflowers. See lots of beautiful sunshine decorating ideas here.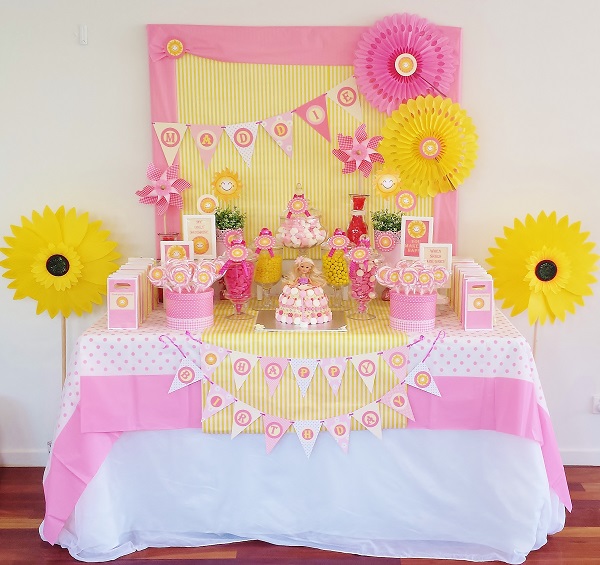 Sunshine printables available for instant download on Etsy.
Winnie The Pooh…and Piglet and Tigger Too
These are such lovely, classic characters, and a great gender-neutral choice. You'll find licensed party ware available, along with toys and framed pictures to decorate your party space with. Team these with natural colours – green, brown, cream. Fake grass, wooden stands and honey pots can also make an appearance.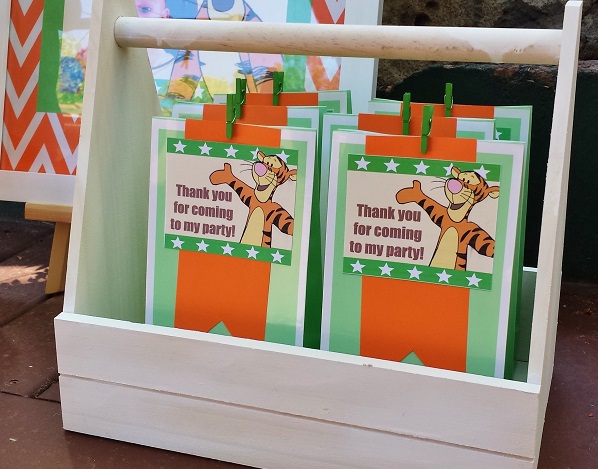 Very Hungry Caterpillar
This is another classic theme. Keep your decorations colourful – multicoloured polkadots work especially well. You can make a giant caterpillar using red and green paper lanterns or plates, with stick-on eyes and feelers. And when you lay out your buffet table, add little cards saying 'On Thursday he ate four strawberries' and so on. Search 'Very Hungry Caterpillar Party' on Pinterest for other decorating ideas.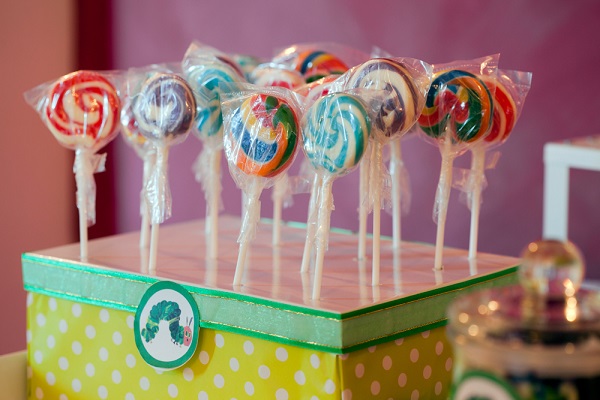 Photo by Silvergum Photography.
Baby Animals
Baby elephants, bears and bunnies make a super-sweet theme when teamed with grey and soft pastels. Add toys or printed animal shapes to your decorations. Soft toys and animal ear headbands also make great baby-friendly party favours.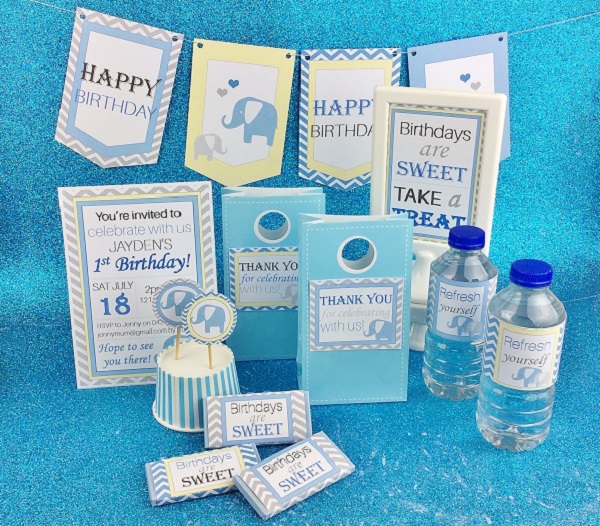 Baby elephant printables available for instant download on Etsy.
Nautical
This is a very popular theme for boys, and you'll be able to find ornaments such as mini lighthouses and anchors in homeware shops. Use crisp blues, whites and reds in your party supplies, along with rope, string and hessian. View cute nautical decorating ideas here.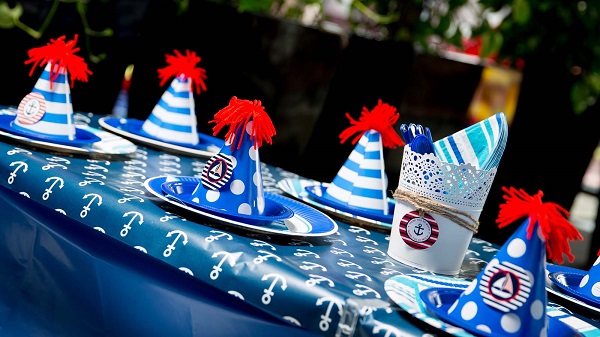 Photo by Colourshades Photography.
Ladybirds, Bugs and Insects
What could be sweeter than a party in the park with bug-themed decorations? Party Kit n Kaboodle have a fabulous array of themed items in their online shop. Hide toy insects amongst the decorations, or in the garden for a fun treasure hunt. You can also lay out playdoh, googly eyes and pipe cleaners, and get the children to craft their own playdoh critters.
Farmyard
Lay out the red gingham cloths, fake grass and even hay bales for a fun farmyard display. This theme is just perfect in a garden setting, in a shed, or at a kid's petting farm. You'll find themed supplies at party shops, or buy red, blue, checkered and animal print supplies. Party favours will look great in brown paper bags, teamed with a free printable farm-themed label.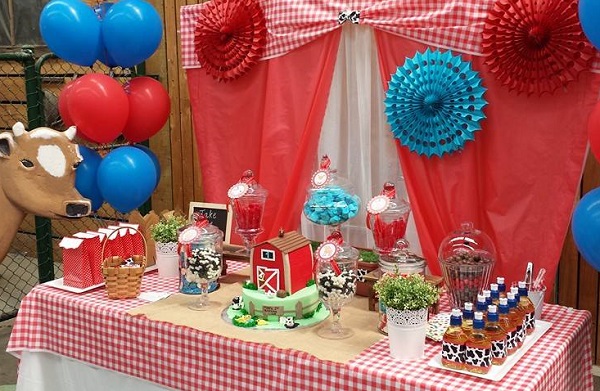 Dinosaur
Dinosaurs are never out style, and there are many sweet baby dinosaur printables that are just right for a first birthday – search 'dinosaur party printable' on Etsy. Team them with green and orange party supplies, green foliage and toy dinosaurs. For added fun, cut out paper dinosaur footprints and stick them to the path leading your guests into the party. Find lots of dinosaur party ideas here.
Twinkle Twinkle Little Star
Another great gender-neutral theme, decorate with cutout stars in sparkling silver or gold. Add highlights of pink, blue or other pastel colours, or go for a night sky look using dark blue or black tablecloths. You'll find lots of inspiration by searching 'Twinkle star party' on Pinterest.
Mickey and Minnie Mouse
Minnie and Mickey Mouse remain popular party themes. For Minnie Mouse, choose black, pink and polka-dot party supplies, and for Mickey go for red, black and yellow. Use licensed products, or a printable pack such as this Minnie Mouse printable set, to add to the mouse theme. You can also cut out Minnie and Mickey Mouse head silhouettes using this downloadable template.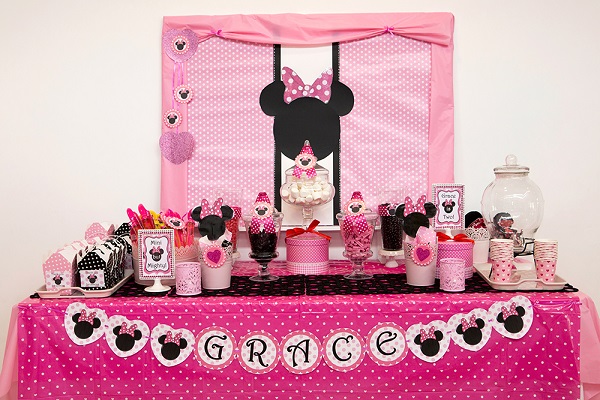 Minnie Mouse printables available from Etsy. Photo by Silvergum Photography.
Fiona Amarasinghe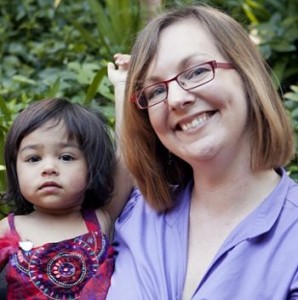 Fiona Amarasinghe is the founder of Easy Breezy Parties, providing kid's parties across Melbourne. Her eclectic career has encompassed management consulting, bellydancing and kid's entertainment. Now mum to one little whirlwind, Fiona does most of her party preparation after bedtime, and frequently gets lost for hours on Instagram and Pinterest.
All parties pictured by Easy Breezy Parties. For lots more DIY decoration ideas, get your copy of The Ultimate Planning Guide For Baby's First Birthday.