Founders of Toucan, Renee and Natalie provide styling tips on how the home decorator can use wall art to transform a child's space.
Be confident with proportions and ensure you have spatial awareness when it comes to selecting artwork.  Select a large print to feature on a large wall – this will ensure the print doesn't become 'lost.' Alternatively, select a series of small prints and strategically place them in different sized frames.
Take the time to hang artwork correctly. Mark the centre of the painting with a little faint dot, and ensure it sits straight- there's nothing worse than a beautiful piece that's lopsided!
Show me a Sign! Add positive statements, words of love and encouragement to the nursery with 'scriptured' wall decals.' The Toucan collection has a range of positive and motivational feature walls for our little darlings to dote on.
If art is the last thing to be chosen for the room, draw inspiration from colours already featured in the space. You may have navy, yellow and aqua tones in your rug and cushions, which can then translate into a colour palette for your art.
When selecting art it's important to consider your child's interest, reflects their interests and creates a positive vibe and energy. At the end of the day, art is very personal- if it brings a smile, you know you've made the right decision!
Magic Metallic – 2016 will be so shimmery! Enjoy a little metallic magic using bronze, silver and gold applications against bright white! The classic subtly of metallic has a warm tone and will complement the balance of the home. We love Hello Lovely– sparkle as gold is lacquered against minty fresh, dove pink or lavender. Oh so lush!
If you don't have budget to spend on prints, Frame it.       Art can be found anywhere. Special wrapping paper, tea towels or big sister's painting. Different sized frames will add texture and dimension to the room- and inspire conversation.
Feature walls: Chose a lovely paint and offset it with vinyl wall stickers (vivid wall decals) or garlands. Stickers are a hot trend for 2016 as they give parents the flexibility to recreate a space every season. Our kiddies can select from watermelons one week to rainbows and beetles the next. Using stickers gives you the flexibility to remove, replace and re-use without harming the paint. Most importantly, it provides a beautiful opportunity for you to spend quality time with your little one – talking about concepts and colour!
2016 is all about being bright and happy, so fill the room with love and light!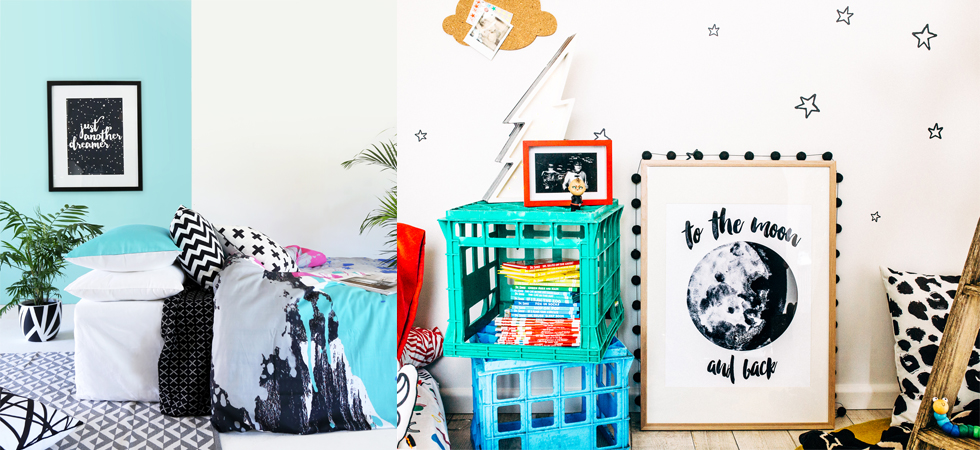 Toucan will be exhibiting at Life Instyle, (18- 21 February, 2016)