Parents: Briony + John
Design aesthetic: Whimsical + Wonderful
Photography: Vision House Photography
With a love for all things creative, mum Briony created unique and special places for her children to dream, grow and play.
Would you say your family is complete?
Our family is happily now complete with our darling daughter, Violet, being welcomed into the world three months ago, taking our family to a total of five! Three is a nice number, and things are still possible to do with three children. Cars and houses are well fitted for three, and holidays are still manageable. For us, three is just right!
What age has been your favourite for each child?
I absolutely love the six-month-plus phase as they start to become their own little people, with their adorable personalities shining through. Ariana is the perfect age (5) at the moment as she is still so young, sweet, and innocent, and can tell me exactly how she feels and what she needs and wants. She doesn't seem to have a worry in the world. Cosi, 3, is at the extremely cheeky age where it's fun for him to see how far he can push the boundaries, and Violet has just started smiling and babbling. The looks she gives me melt my heart!
'The unconditional love that your children bring is unlike any other. It's my greatest achievement."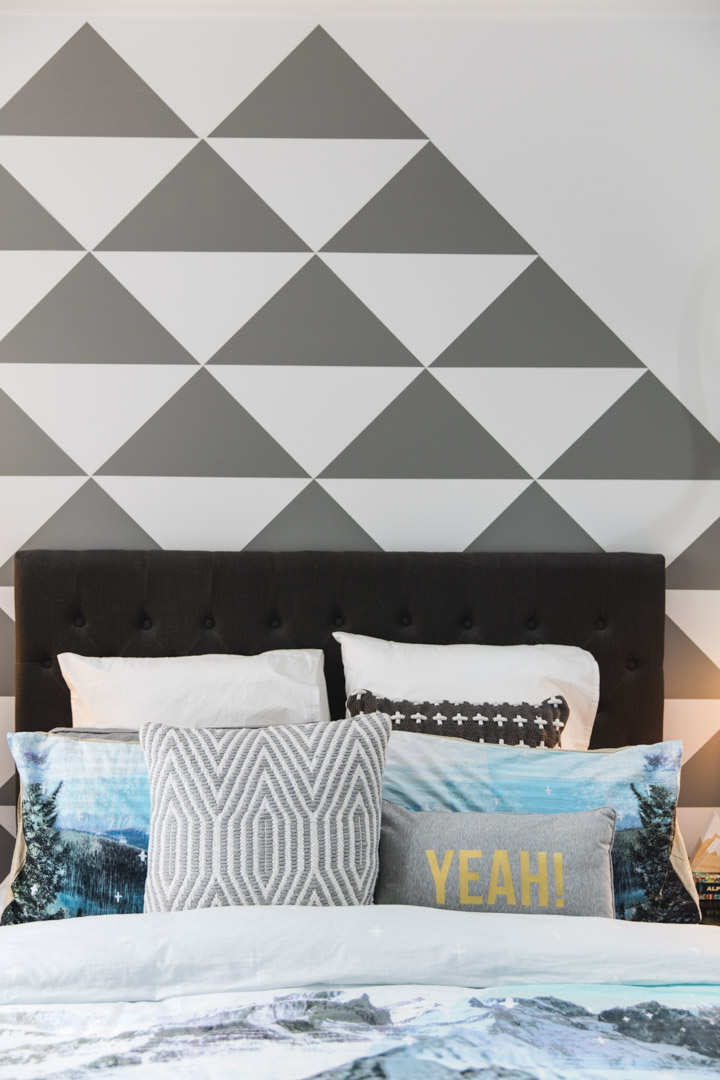 What do you love most about being a parent?
Just being a mum is incredible. Knowing these children are mine and I'm theirs. I love the fact that a little cuddle from me can make their world a happier place. The unconditional love that your children bring is unlike any other. It's my greatest achievement.
What do you find the most challenging about being a parent?
The most challenging thing would have to be finding the perfect balance. To find enough time for each of the little people in your life, time for your partner, time for the housework, time to socialise, time to spend as family and last but not least, time for yourself, is a conundrum!
What traits does each of your children show now that you hope they will carry with them into adulthood?
As our children grow, I truly hope that they continue to keep their loving and caring natures. They are all sensitive and compassionate little souls.
What tips would you offer to other parents who have children approaching the ages of your kids?
Try and remember that there are always phases children will go through, and things will pass and become easier as they grow older.
"A child's room is their place of serenity."
How has your home changed as your children have grown?
When we were first married, I went shopping for interiors, and selected all the pretty stylish things I could find – white couches, glass tables and delicate décor pieces. Things soon changed when we had a baby! The white couch quickly went up for sale, as did the glass dining table. It was time to turn the house into a more 'family friendly' area.
When did you start planning each child's room?
We began building our new house two years ago, and during this stage, I started planning the children's bedrooms. Sourcing the perfect little pieces and putting them away for when the build was complete was a joy, and well worth the wait.
Why was creating a special space important to you?
A child's room is their place of serenity. It is where they lay their head and spend most of their hours of play. Creating the perfect happy area for them was of high importance to me consequently.
What made you decide on the theme/colours/ideas for Ariana?
With Ariana's bedroom, I wanted to create a soft, delicate palette to include all things whimsical and wonderful. And that was when I first laid eyes on the Mrs Mighetto wallpaper, which became my main focal point and highlight of the room. I developed the theme from there.
What made you decide on the theme/colours/ideas for Cosi?
When in the planning process of Cosi's bedroom I came across a beautiful triangle wallpaper that was featured in a magazine. I instantly knew this would be the basis of the design. As for the colours I wanted something that he would love leading up to his teen years and versatile allowing me to keep changing it up without the huge expense. Grey, yellow, and white was the perfect palette to create this!
When selecting a bed for Cosi we wanted to move him straight into a queen size bed for many reasons. One being if he was ever unsettled at night, we could easy camp next to him through the night and still manage to get a peaceful night rest (and we all know how important this is!). Secondly it means we don't need to buy him another bed as he grow older.
Do you have a special play area for your children to share?
When designing our house, I told my husband that we had to have an area for the children to play included in the layout – where they could create memories and mess without us worrying about it! They also have a play area outside of their own.
How much time do they spend in their bedrooms verses other areas of the home?
Their bedroom and playroom is their constant residence. Ariana plays dolls and dress-ups in her room, while Cosi plays puzzles and uses his bed as a trampoline! They adore having spaces of their own. And when they wish to combine forces, the playroom becomes a haven of creativity or rest, as they choose.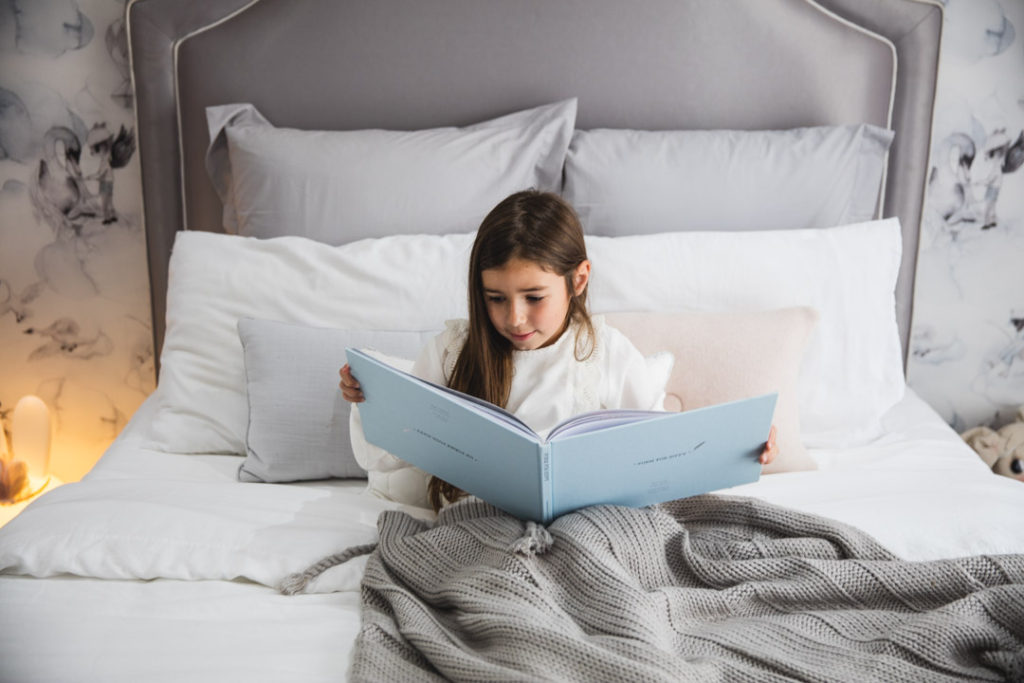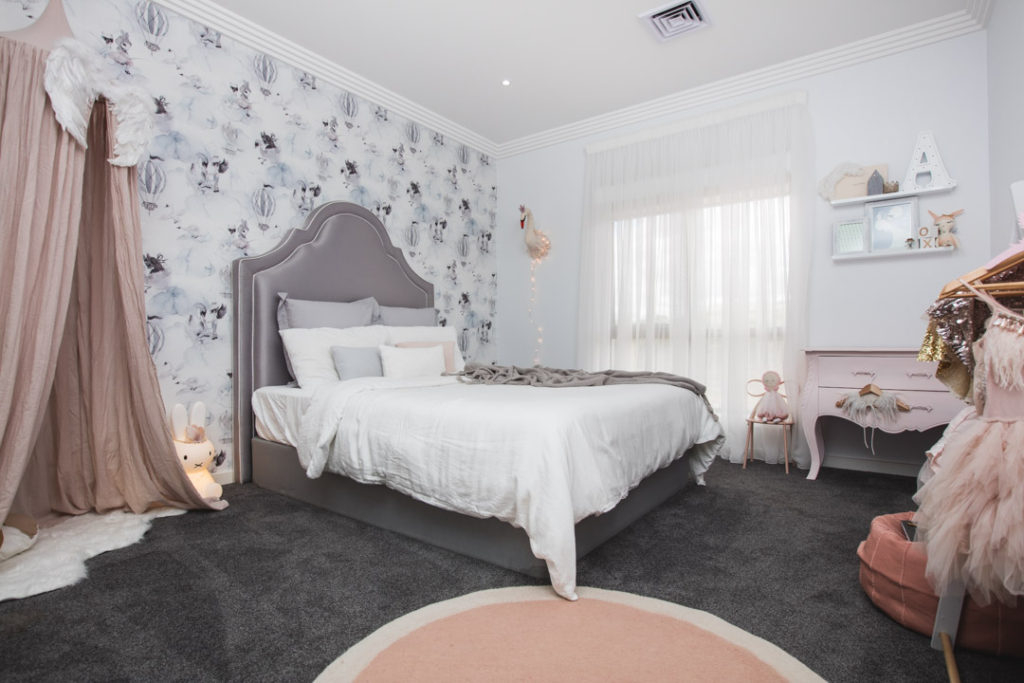 Five things Briony loves about Ariana's space:
1. Numero 74 canopy: This is perfect to create the whimsical vibe, and yet practical for becoming a tent, reading nook or whatever adventure Ariana has in mind.
2. Clothes rack: This allows Ariana to display her beautiful pieces in her room.
3. Book shelves: These are fabulous to display books or any pretty little things.
4. Wallpaper and wall decals: These set the theme and add so much character. The wall decals are also great for those who are renting as they are cost effective and easy to remove.
5. Bedhead: Something as simple as a bedhead adds so much style to a bedroom.
Five things Briony loves about Cosi's room;
1. Wall decals: They set the mood and create character to his room and are an easy and cost-effective, timeless creation.
2. Deer head: This was my first purchase for Cosi bedroom and was another of my main focal points.
3. His reading chair: He sits, reads, spins, jumps, plays all over this chair and will last him forever. The perfect classic piece.
4. Roadster: Cosi was given this at birth from one of his aunties and loves to cruise around the house on it. It's a fantastic decor piece and still practical.
5. Bedhead: I always wanted a real manly bedhead for his room to last him until his teen years but perfect to match any type of doona cover that I wish.
Five things Briony can't live without:
1. Playroom: What would I do if I didn't have this room? I love being able to hide all the kids' mess! Plus, it allows them to go wild and get creative.
2. Portable DVD players/ iPads when travelling: A must for every parent to keep their sanity when travelling. Happy kids equals sane parents!
3. 'My Breast Friend' feeding pillow: This gives some extra back support and has allowed me to be comfortable when feeding.
4. Mamaroo: For those times when baby has wanted to be held/swung/bounced/rocked, and I have needed to get things done, this has been ideal.
5. Baby monitor: I still use this for my older children. It puts my mind at ease.