Hand-made centerpiece pots are popping up all over party land! These gorgeous little decorations are not difficult to make, and add a beautiful personalised touch to your party space. They are a great way to introduce your theme and add colour to a dessert buffet. Or place them next to a bunch of helium balloons on your dining tables to create an affordable centerpiece that looks extra special.
You can make a centerpiece to suit any theme, using all sorts of cutout images – including circles, characters, numbers, even your child's photo. You can keep it simple with just a few cutouts, or add more to create a bigger display.
What you'll need:
Container (such as a plant pot or decorative bucket)
Straws or wooden skewers
Images printed on card
Styrofoam or plastic gems
Sticky tape, blue tack, double sided foam tape or glue gun
Optional:
Serviettes, Doilies, Pinwheels, pot plants
Laminator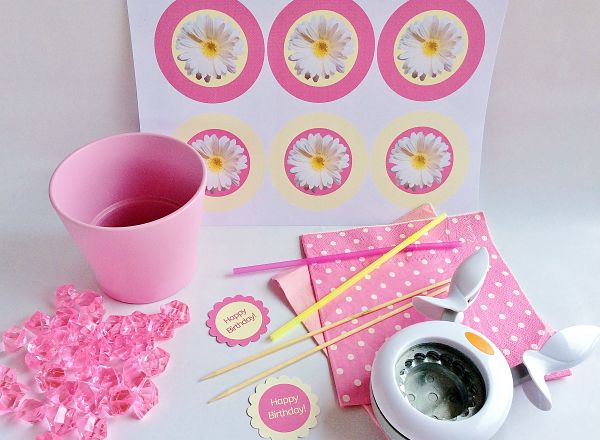 Step 1: Create your decorative cutouts
You can use all sorts of images to create your decorative cutouts. They could include:
– Decorative circles from a digital printable set
– Cutout shapes to suit your theme (characters, animals, boat anchors, etc)
– Your child's age or the first letter of their name
– Your child's photo
View lots of centerpiece ideas on Pinterest. You'll find a huge range of digital printables on Etsy, including these daisy printables.
Print your image on thick card (approx. 200gsm thickness) or on thinner paper and laminate. Note that laminated pieces tend to reflect light in photographs, so matte card will photograph better.
Cut out your pieces – for circles, scrapbooking cutters and punches give a neat finish and save time. You can find them at any craft store.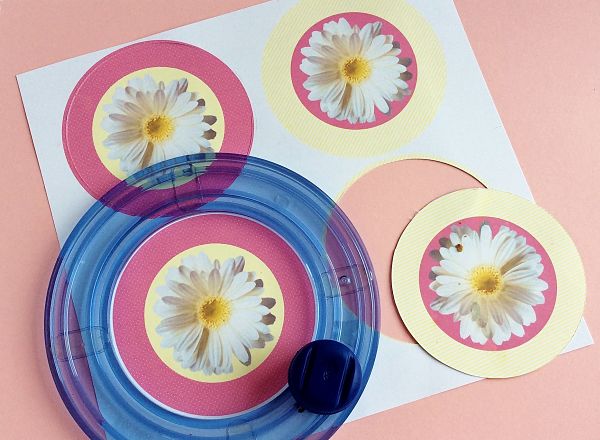 Place your pieces face-down and stick a straw or skewer to the back using sticky tape or hot glue gun.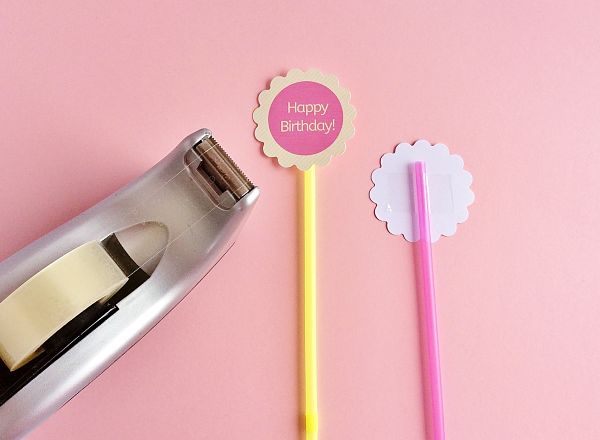 Step 2: Add some 3D elements
You might like to incorporate more textural elements, such as pinwheels, doilies or flowers.
Pinwheels can be found ready-made, or search 'how to make a pinwheel' on Pinterest to create your own. You can attach a small cutout circle to the middle of your pinwheel to make it match your other decorations.
If you'd like to incorporate foliage, you could use a real or fake potted plant as the base, or insert individual flowers. Ikea sell a great range of attractive fake pot plants. Or head to the nursery for small potted ground covers, such as daisies.
You could also laminate a doily and stick a printed circle in the middle. Use blue tack or double-sided foam tape to create a 3D effect.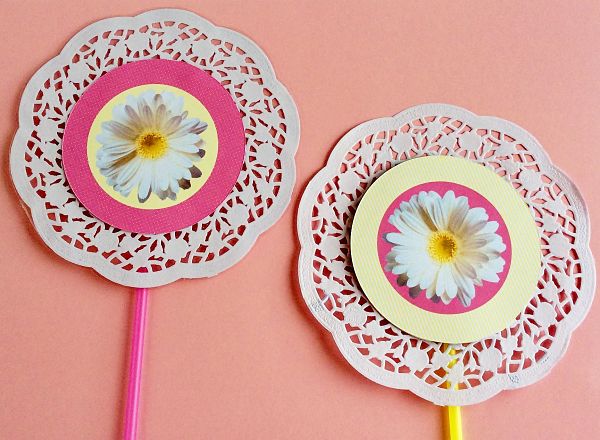 Step 3: Assemble your centrepiece
To stand up your pieces, fill your pot with plastic gemstones or jelly beans. Alternatively, insert a piece of Styrofoam or oasis flower foam (used for flower arranging and available from florists). If using foam, insert a serviette first then the foam, so that the serviette hides the foam.
You can also use a pot plant as your base, and insert your decorative pieces directly into it.
Now experiment with the positioning of your pieces. You'll want to arrange them at different heights and angles, so everything can be seen.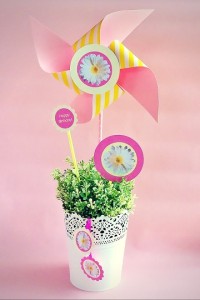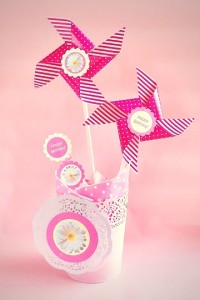 If your straws are too short, or not very strong, you can add some length and strength by inserting a wooden skewer into the straw, then taping them together at the bottom.
Finishing touches
Finish off your pot by tying a ribbon or attaching an extra cutout to the front. Try placing your cutout in the centre or slightly off to the side, to see which gives the best balance.
Now place your centerpieces about your party space and enjoy the extra colour they bring to the room!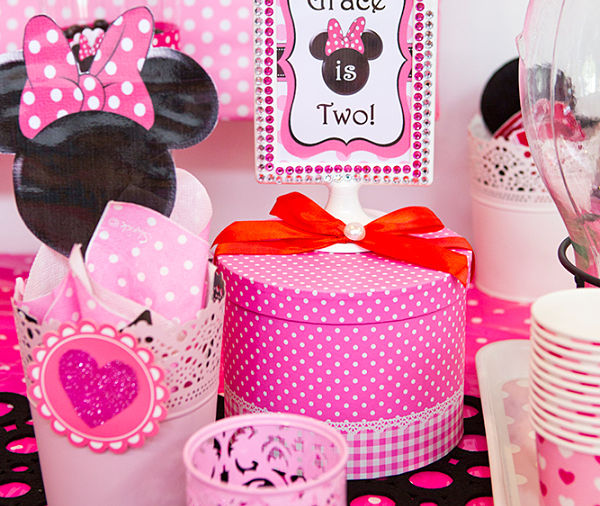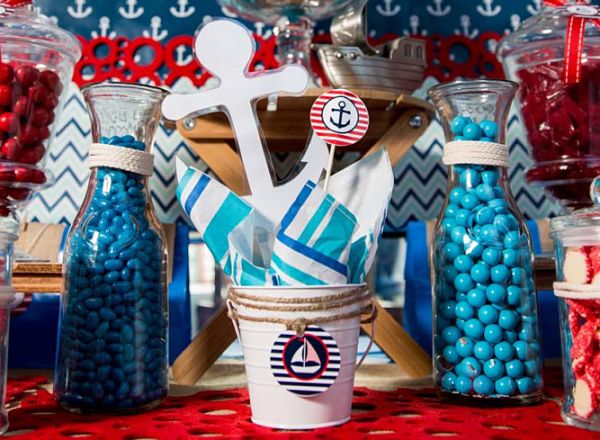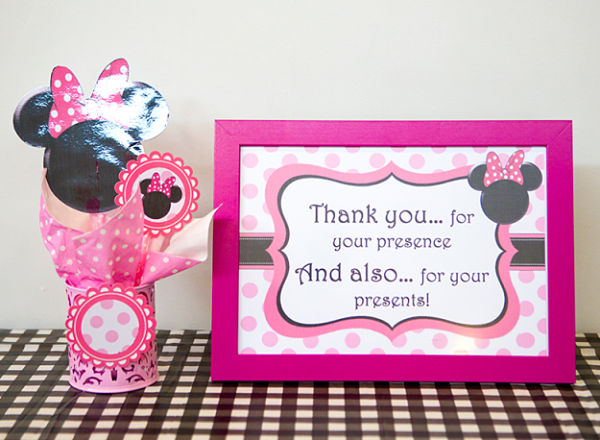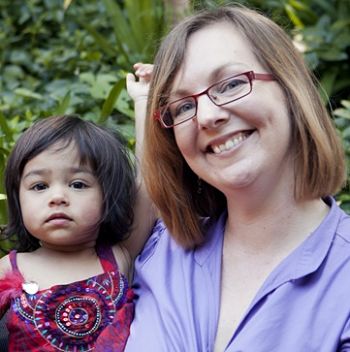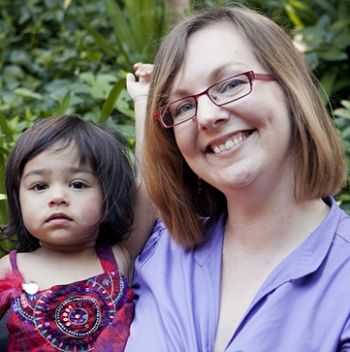 Fiona Amarasinghe is the founder of Easy Breezy Parties, providing kid's parties across Melbourne. Her eclectic career has encompassed management consulting, bellydancing and kid's entertainment. Now mum to one little whirlwind, Fiona does most of her party preparation after bedtime, and frequently gets lost for hours on Instagram and Pinterest.
Daisy printables available from Etsy.
For lots more DIY decoration ideas, get your copy of The Essential Kid's Party Planning Guide.
www.easybreezyparties.com.au
www.facebook.com/easybreezyparties
www.pinterest.com/easybreezyparty
www.instagram.com/easybreezyparties
www.etsy.com/shop/EasyBreezyParties