Does your family have traditions? Not the kind of traditions that everyone has, but traditions that are special, just to your family. They don't have to be time consuming or expensive although I have noticed that a few of these revolve around food for our family.
Family traditions form a huge part of childhood memories and can help to bring siblings closer together.
Here are some traditions from our family that you might like to try, or come up with some of your own! I'd love to hear how you go.
Sunday Sundae
Much to my own mother's surprise, I'm one of those mums that doesn't let her children eat ice cream every night. Instead, on Sundays, the kids make their own sundae. There are special sundae glasses and they are able to build their own sundae from a variety of ice creams, toppings, sprinkles and fruit. They start planning their sundae well before Sunday and really look forward to it.
Losing a tooth
This is a huge deal for a child! Sometimes that tooth has been hanging around for ages before it finally falls out! When it does, the kids know we will be having spaghetti for dinner that night. There is something so delightful about watching a child try to suck and slurp spaghetti through the new gap in their teeth. This tradition makes for some great gappy photos!
When the tooth fairy does come, she brings those "special" coins. You know, the commemorative ones with a different picture than usual. It's just a little difference that makes a visit from the fairy so much more exciting as they are more interested in the picture on the coin than it's value. She also sprinkles a little glitter on the pillow of each child. Just don't ask about the night ninja style tooth collection required when a certain child insists on placing the tooth under his pillow!
Pyjama Day
Every school holidays, the kids have a pyjama day. They stay in their pj's all day and play. Swings, trampoline, climbing a tree, it's all more fun in your pj's. They always watch a movie with popcorn at some point in the day but the best part is breakfast.
On pyjama day, they have breakfast for every meal. Cereal and fruit for breakfast, maybe pancakes for lunch and bacon and eggs for dinner.
Then it's off to the shower before clean pyjama's for bed time.
We have all kinds of family traditions for special celebrations like birthdays, Easter, 1st of December, Christmas, even traditions for going fruit picking! Try a new tradition with your family and celebrate everything.
Natalie Fourie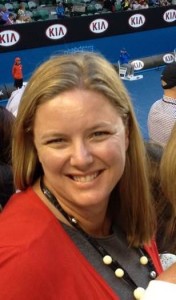 Natalie has worked as an Early Childhood educator for over 16 years and loves inspiring, supporting and encouraging children and their families.
Natalie is also the co-owner of Nightie Night Lane. Designing and creating Australian made, organic cotton children's nightwear that is as comfortable as it is beautiful and available online at www.nightienightlane.com
She is a wife and mum of two and understands the craziness that is the wife/mum/business owner/teacher life.
featured image by Minya Rose