Mrs Burrows Reviews: Komplete Shakes
Meet Kate Farms – Komplete – the ready-to-go, whole food nutrition that takes care of you and your family's health!
6 weeks ago I sat in my Doctors consulting room with my 5 month old daughter who was showing signs of gut inflammation. My son was diagnosed with severe food allergies at 12 months of age so when my Doctor gave me 'that look' I thought to myself… 'here we go again'.
Because I'm breastfeeding, she recommended I go on a dairy and gluten free diet immediately as they can be the main irritants.
Later that day I was on my computer working (and pondering what I was going to eat) when an email came through about these amazing new meal replacements from Kate Farms that are dairy and gluten free! Hallelujah!!!
When my shakes arrived I was happily surprised that they:
1. looked pretty cool
2. Tasted really nice
3. Are packed full of vitamins and superfoods
4. Three Delicious flavours (Vanilla Bliss; Cocoa Fudge; and Jav'a Latte). Vanilla is my personal favourite.
What a relief! Now I have a quick go to snack/meal in my fridge that's easy to take out and about (no mixing and shaking).
Meet Kate Farms – Komplete – the ready-to-go, whole food nutrition that takes care of you and your family's health!
100% Organic. 100% Natural. Soy-free. Dairy-free. Gluten-free. Non-GMO. Hypoallergenic. Vegan. Plant proteins. 21 Superfoods.
This is Komplete by Kate Farms – the nutritious and delicious ready-to-drink shake for everyone; including vegans; vegetarians; celiacs; those with dairy intolerance; or people prone to food allergies.  It is also on-the-go bliss for busy families; athletes; people struggling with health issues; shift workers; tradesman; and people stuck at their desk who work hard but want nutrition that will serve them well.
Kate Farms – Komplete is not just good for you, but its consumption has proven to improve health and well-being dramatically.   It is ready-made to instantly deliver incredible nutrition that protects, prevents and heals. Just ask Kate.
Kate Farms -Komplete was developed with love, devotion and hope by the parents of Kate Laver, born with the Cerebral Palsy and unable to consume solid food. Australian-born Richard Laver, cousin of tennis great, Rod Laver, and his wife Michelle developed Komplete as a nutritious meal replacement alternative for their daughter after she developed health complications from the sugar and dairy-rich, whey-based meal replacement formulas prescribed to her. She was diagnosed at three year-of-age as 'failing to thrive'.
The Lavers went about an inspired journey starting in their kitchen developing the world's first dairy-free; gluten-free; and soy-free; ready-to-drink wellness shake. The result was a shelf-stable combination of the highest quality, freshest ingredients such as acai; mangosteen; black currants; raspberries; and green tea extract, blended to be the best tasting, most nutritious health shake on the market.
"We saw the need to create great tasting, and whole food drinks made from the heart. Where all-natural vegan products not only taste delicious but are good for you. Our passion for healthy foods and belief in taking care of one another is the reason we are here," says founder and CEO of Kate Farms, Richard Laver.
After Kate switched to her parents' new formula, her condition improved radically. The bottle rot she had developed on the other formulas completed healed.  She no longer needed her breathing treatment for sleep apnea and her ongoing complications with digestion vanished.
Since its launch in 2013, Kate Farms – Komplete is now the leading Ready-to-Drink in the United States. Kate Farms – Komplete, made with whole foods direct from the farm is now available in Australia and comes in three delicious flavours; Vanilla Bliss; Cocoa Fudge; and Jav'a Latte.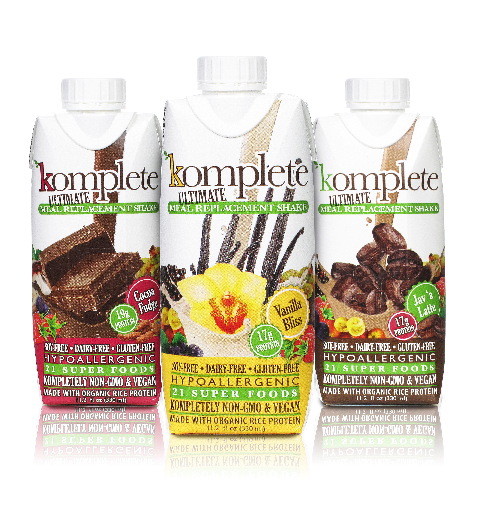 Bunny rating (out of 5 Bunnies):

[Who is Mrs Burrows? Mr and Mrs Burrows are our adored Littleone Magazine Bunnies. While Mr Burrows attends to the online store, Mrs Burrows keeps busy by reviewing fabulous products for parents and children. Want Mrs Burrows to review your product? Simply drop us a line below or mail to Mrs Burrows, PO Box 32, Seddon VIC 3011. To find out more about our editorial and advertising policies, head to our FAQ].