REVIEW: Dyson V6 Vacuum Cleaner – To Dy For
For any mum with children, in particular crawling bubbas, you'll know just how important a clean floor is. Well, floors are ten times cleaner with a Dyson V6 Vacuum cleaner in the home (apparently a researched fact!). Mrs Burrows gnabbed herself one of the new models to see just whether the new Cordless Dyson V6 lived up to the hype. The result? Sparkling clean floors and family at wars over who gets to vacuum.
I am not into vacuuming – I mean, who is really? However now that our littlest of the Burrows Family is on the move it is more important than ever that I get to love this humdrum domestic chore. The one thing that holds me back from vacuuming is the fact that our current vacuum cleaning is made up of 642 attachments and takes 46 minutes to pull out of the cupboard and assemble. By then, Miss Burrows has consumed four piles of lint, 6 pieces of leftover carrot cake and something that I can't even bear to think what it's origins were.
Something needed to be done.
So, I gnabbed myself a fancy Cordless Dyson V6 vacuum with the hope of bringing some sort of cleanliness into our household.
Well, not only is the house far, far cleaner than it ever has been, the Dyson has started a war within the Burrows Family: just who can get to the Dyson first and whizz it around the household floors.
Yes, the new Dyson is so easy to use, easy to grab, light to hold and … heaven forbid, fun, that each family member is so super keen to give it a go that I have been left out in the vacuuming cold.
I think it comes down to a few things:
Firstly, without the 'wand' attached, the Dyson looks very much like a power drill. Cue happy Mr Burrows; man urges are fulfilled and house is vacuumed 329 times a day.
The Dyson V6 motor is at the top of the handle making it actually very light and easy to use. Cue three year old bunny already vacuuming the house like a pro.
The Dyson V6 is – for a vacuum cleaner – aesthetically pleasing with it's bright red and blue colours and spinning head. Cue bubba bunny unafraid of vacuum and thinks it is a super cool new toy.
It uses cyclone technology so the air that comes out is cleaner than the air that goes in – perfect for a little bunny prone to allergies.
The Dyson V6 comes with a wall mount so it is placed within easy reach of all to whizz up breakfast crumbs. Cue clean floors and a healthier baby (from not eating eight-day-old breakfast residue).
I am more than happy for the family to take on household duties. Gives me more time for me!
We have only had the Dyson for just over a week and I have to admit we are a changed household – cleaned floors and content hubby and children … and Mama Burrows!
Now I could go into all the technical aspects of the new Dyson V6, but truth be told the tech aspects really don't excite me, but for those of you that it does, head HERE for all the details.
I just know that now we have introduced the Cordless Dyson into the family, I am officially in love with a piece of machinery. It reminds of the time we finally got a dishwasher many moons ago – I've been known to give a kiss or two, and now I have a new love in my world. The new Dyson is seriously to die for.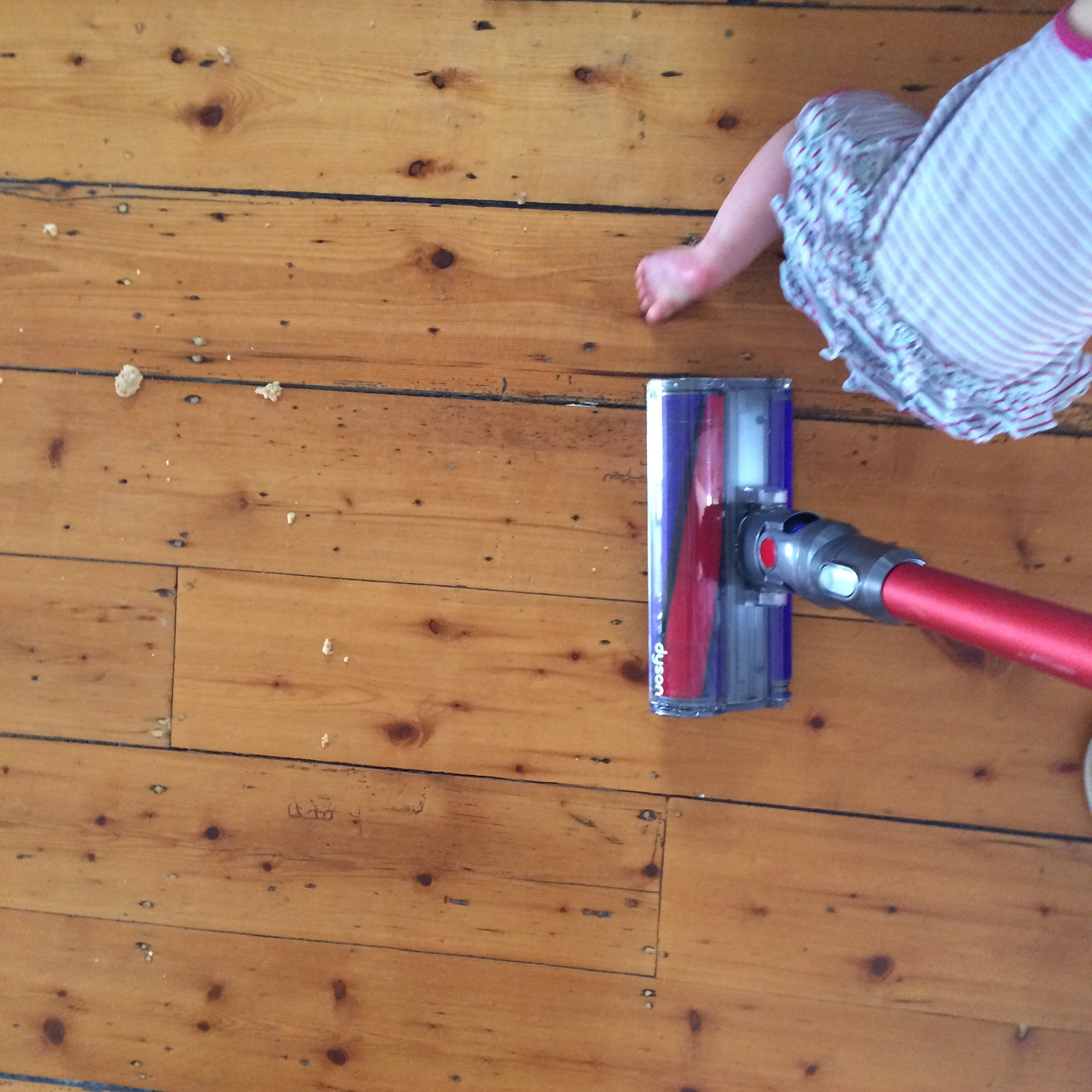 And I'm not the only one in love. Mr Burrows puts his paws-worth in too;
Hi everyone, Mr Burrows here.
Just thought I'd throw in my two paws worth. I have to agree with Mrs Burrows on a lot of the afore mentioned content but I must say for such a busy little doe she does make it sound like she is quite domesticated.
As an authority on the subject of cleanliness and vacuuming in particular in our household (you see, it is I that does the majority of the cleaning, although maybe not always to the standards set by Mrs Burrows) I must say this new Dyson thingy is bloody good.
It just hangs there on the kitchen wall right next to the phone and IPad charger so it's always in my line of sight, softly calling to me to caress its fine lines and shiny bits. It has a solid, industrial feel about it and it's really easy to handle and probably most importantly it's new, which as every self respecting Buck will tell you, means you just can't put the bloody thing down.
Seriously, I just think of it as a workshop vacuum and that removes all the negative thoughts of being a house Buck … and it's a V6. Now, if only I could find a way to get Miss Burrows poo stains out of my best apron I'd be a happy little rabbit.
Thanks Mr Burrows.
Now for a recap on the Burrows Family review on the Dyson V6;
It is a powerful machine that has made our lounge room rug the cleanest it has been since it was laid;
It has a great carpet cleaning head that doesn't get jammed with fur (the hair all goes into the canister which can easily be opened and cleaned;
The specially-designed floor cleaning head picks up really big chunks of leftover food and crumbs and glides along the floor without flicking crumbs all over the place!
It has loads of attachments so you can easily clean in/around/behind the bunny household;
And it is super easy to empty
So there you have it – for those of you who have never experienced the Dyson-experience then you are missing out, and for those who are already on the Dyson train, you might just want to think about upgrading your model. It's to dy for!
Do you have a Dyson? Do you love it too?
Feature photo: Finnegan's Space, Issue 16. Photo by Atomic Butterfly Photography