If you're looking for a mini-break away with your baby-daddy, Brisneyland has it all – sun, sass and that all-year-round tropical feel, as Jessica Jane Sammut investigates. Cocktail anyone?
When it came to dreaming about some much needed one-on-one down time with my mans recently, I knew exactly where I wanted to be: child-free in a beautiful hotel in the centre of the city, with Champagne at my fingertips and gourmet cuisine just a whisper away.
So when a chance to stay at The Marriott Brisbane came along shortly after, I couldn't pack my bag quick enough. Babies? Booked in for a weekend with their cousins. Hubby? By my side. Brisbane, we were ready for some spoiling!
Arriving later that day, the sun was shining and the warmth oozed through to my bones. Sub-tropical climes, you had me at 30 degrees! Offering a contemporary yet classic international vibe, I immediately felt myself unwind as I entered The Marriott. Before I knew it, our luggage had disappeared and we had a drink in our hand as a plethora of people ran around us to ensure we had everything we needed. It felt amazing to be looked after instead of the one doing the looking after!
After checking in, we were shown to our Executive room, which had the most beautiful view of the river and Story Bridge. Left to our own devices, I quickly opted for an indulgent childfree bubble bath, complete with a glass of Champagne. Why not? I may not have been on honeymoon, but I certainly felt like I was!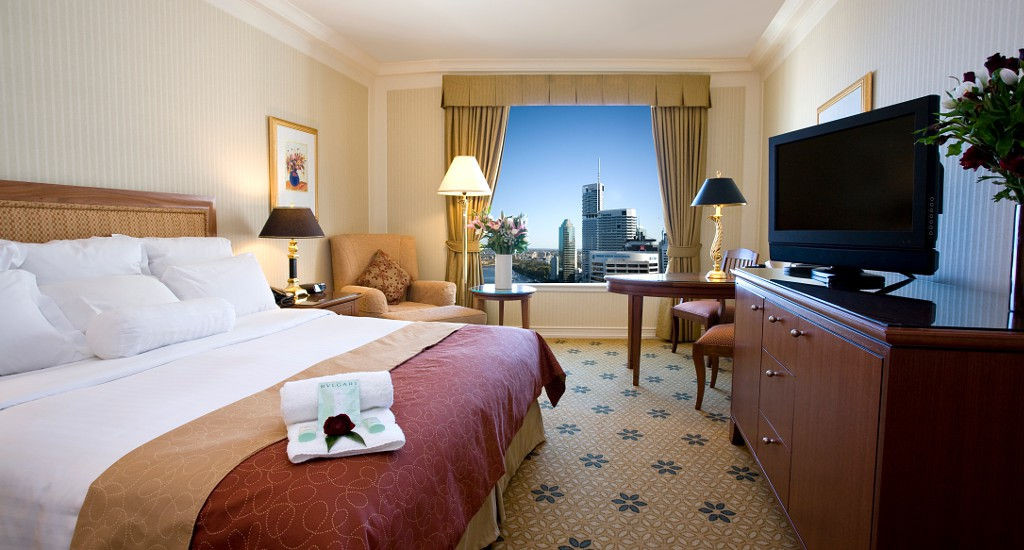 After dressing for the evening in my new heels and latest London jump suit, our next pre-dinner stop was a decadent hour spent in the Executive lounge. It's amazing how much time you feel you have when you are not multi-tasking. Basking in adult chat in our refined environment, I felt a world away from juggling nappies, cooking and school homework.
In fact, soaking up the atmosphere in this little haven set the scene for our grown-up night, with the stunning views over Brisbane town only serving to enhance this feeling further. Coiffing Champagne and canapés (all of which were complimentary as part of the Executive package), hubby and I reconnected in a way we hadn't been able to for ages (without any interruption!). I was on a stylish city date with my best friend. What could have been better?
Having become slightly tipsy on bubbles, dinner soon beckoned, so we made our way down to Motion Bar and Grill on the ground floor. Offering a wide and varied menu, complemented by impeccable service, we settled in for a night of well-earned extravagance.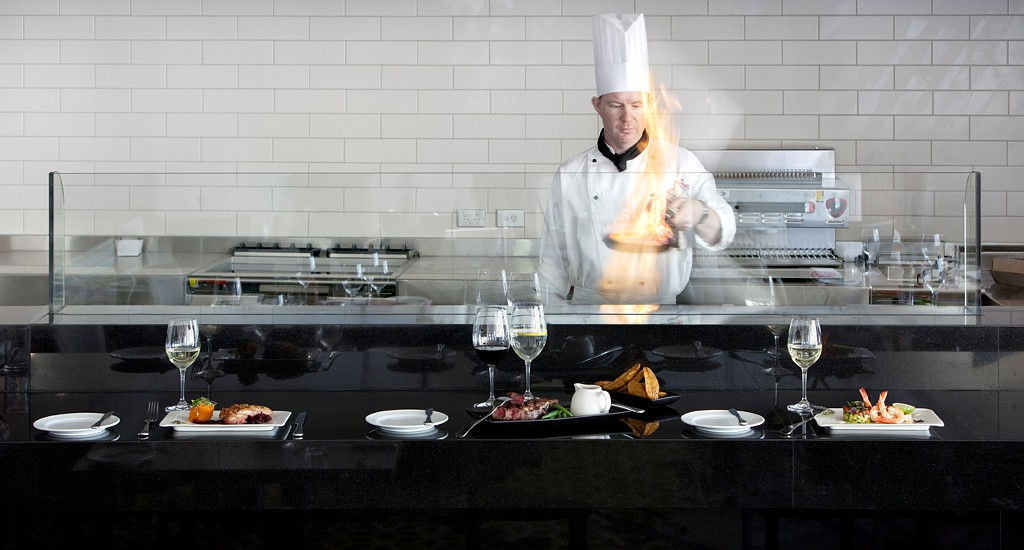 Ordering the luxurious seafood tower (which included a selection of spanner crab, Moreton Bay bugs, Pacific oysters, Huon smoked salmon and ocean king prawns) and the beef tenderloin, we couldn't wait to sample our dishes, and suffice it to say, they were amazing! For dessert, we gorged on a signature creamy cheese platter, and cocktails ensued. Some hour later we floated back to our room in a cocoon of romantic bliss.
As for the following morning, it was followed by the only thing better than a lie-in: a one-hour relaxation massage! Ladies, I have never felt so reset. Shimmying to the Dome Spa Retreat within The Marriott, leaving my sleeping hubby in bed (with an agreement to meet at The Marriott's iconic buffet breakfast post-rub-down), I prepared to be unknotted. With the most sublime all-over body massage using essential oils, I felt my muscles ease and the tension of the past few months drift away. I knew I was now almost ready to go home.
After a delicious cooked breakfast followed by fresh fruit and pastries together with a Grande frothy cappuccino, I couldn't wait to see my bambinos. I had arrived a wound-up ball of stress and was leaving a loved-up bubble of happiness.
Feeling like the luckiest girl on earth, I took my baby-daddy's hand. "Come on, let's go get our family."
TOP TIPS
Book an Executive room as you get access to the Executive lounge which includes complimentary afternoon tea, evening capes, evening drinks, evening dessert and refreshments though the day.
Take your wellness and harmony vibes to the next level by enjoying a bit of time at Dome Spa Retreat – just make sure you book in advance.
Dine at Motion Bar and Grill where head chef, Peter Iwanczyk, offers a menu from regionally sourced produce.
Check out the outdoor undercover pool and the sauna for further pampering time.
If you are staying for a couple of nights, head into the Valley to sample some of Brisbane's coolest bars, including Up on Constance (www.uponconstance.com) and Eleven Rooftop Bar (elevenrooftopbar.com.au).