By Martyna Angell
Oooh-ey, goo-ey, chewy and soooo delicious. Mamas, prepare! Make these delicious brownies while your little one naps in the afternoon and you will have an indulgent treat well into the evening to power through the dishes, laundry, that new business idea – hello – or just simply enjoy with a side of the latest episode of your favourite show on Netflix.
Frozen raspberries can be used, but make sure to thaw them out before mixing into the batter. I used whole almond meal instead of blanched, you can get it from most supermarkets nowadays. It is made with skin-on almonds because nutrients found in almond skins team up with the vitamin E present in their meat to more than double the antioxidant power delivered by either one of these nutrients separately. To make whole almond meal, pulse raw almonds with skin on using a food processor until desired consistency is achieved. Do not blend on high speed as you will end up getting almond butter.
SERVES: 16
PREP TIME:  15 mins
COOK TIME:  35 mins
Ingredients
150g (70% cocoa) dark chocolate, chopped roughly
150g (organic) butter, diced
½ cup (110g) firmly packed brown sugar (or coconut sugar if you prefer)
1 tablespoon freshly ground coffee
2 eggs, beaten lightly
110g whole almond meal – see note above
⅓ cup (50g) raw macadamias, chopped roughly
¾ cup (75g) fresh raspberries – see note above if using frozen ones
Method
 Preheat oven to 170C (150C fan forced, 325F, gas mark 3). Line a 20cm square tin with waxed baking paper.
Place chocolate and butter in a medium-sized saucepan set over low heat for the chocolate and butter to melt, stirring occasionally. Remove the mixture from heat and add the sugar and coffee grounds, stir in well. Set the pan aside for around 10 minutes to allow the mixture to cool.
Once cooled, using a whisk beat in the eggs until the mixture becomes smooth and glossy (it may appear curdled at first, just keep whisking). Whisk in almond meal. Add nuts and raspberries and fold in to combine.
Using a spatula, scrape the batter into the paper-lined brownie tin and bake in the pre-heated oven for 30-35 minutes, or until the brownie is set on top and beginning to crack, but still soft to the touch in the middle.
Remove from the oven and cool on a wire rack for 10 minutes, before removing from the tin to cool further. When cool, slice into 16 squares and enjoy with your favourite tea-time drink.
Coffee aficionados will definitely like the unmistakable flavour and aroma of freshly ground coffee in this easy to make, gluten-free treat.
Originally Published by Martyna Angell over at Wholesome Cook.
Polish-born health coach, blogger and cookbook author, Martyna has worked as a recipe developer for a number of local and international publishers and brands. Martyna's website and cookbook, The Wholesome Cook (Harlequin), offer a mix of wholefood classics which are based around real food and can be adapted to create options for various dietary needs.
CONNECT
Book: The Wholesome Cook 
Blog: Wholesome Cook
Instagram: wholesomecook
Facebook: Wholesome Cook with Martyna Angell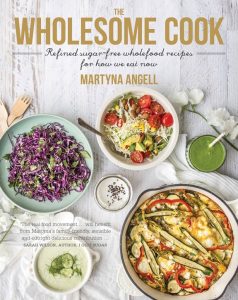 ---
You may also like NOURISH: Wholesome Alternatives for Immunity-Boosting Vitamin C
and YUM: Thai Pumpkin Soup with Coriander Crumbs.
---
MD®