By Gabrielle Nancarrow
Wanting to know how to communicate better with your partner during pregnancy?
It's important to maintain strong, open and clear communication with your partner during your pregnancy.
And make space to talk about the bigger things that might be lingering in your relationship and could affect your birth, postpartum and parenthood journey. This includes long-standing issues, feeling unsupported or disconnected in any way, previous pregnancy loss, or new conversations surrounding the raising of your child.
Your partner is presumably going to be supporting you during your labour and birth and, as I said earlier, you need to feel fully supported and at ease with everyone in the room.
Start working through any unresolved tensions now. Consider seeing a couple's therapist who can help well before your due date approaches. Or at the very least have the conversation, or conversations, that need to happen to ensure you feel connected, in trust and are not taking anything heavy into your birth space.
A couple's therapist is a good idea at any time, even if you're not having any major issues. Because it's so important to know how to communicate better. They can help you both now and throughout the bumpy road of postpartum and parenthood.
This is an edited extract from The Birth Space by Gabrielle Nancarrow published by Hardie Grant Books
Photography by Ilsa Wynne-Hoelscher Kidd (@ilsa_whk), Lisa Sorgini @lisa.sorgini, and Hayden Trace (@feelinghomeagain)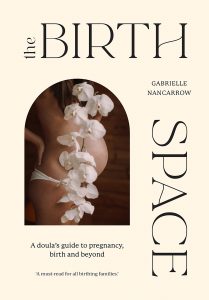 ---