By Nicole Fuge, MD® Managing Editor
Eco-anxiety, have you heard of it? WTF? Neither had I, so I asked Dr Sally Gillespie to bring me up to speed on this new term and let us all know what we can do to help our little bambinos overcome it. "Eco-anxiety encompasses a range of feelings, including anxiety, sadness, despair, guilt, anger or powerlessness. Given the seriousness of contemporary ecological harms, these are healthy feelings to have and are part of waking up to what is being lost and destroyed in our natural world."
Sally says many young people are significantly anxious and scared. "Typically children worry about how the world will be when they are adults, fearing that many of the animal species they love may be extinct, and that there will be increasing catastrophic climate-driven events. They also worry that adults are not doing enough about the climate crisis. Children have a keen sense of justice, so a part of their eco-anxiety is focused on the unfairness of having to live through the consequences of ecological destructions throughout their lives because they have not been adequately recognised or addressed by the adults in charge now."

How to help your little one manage their eco-anxiety
The most important thing we as parents, carers and teachers can do to help children is to listen carefully, and take their feelings and fears seriously. A child does not feel safer or happier if their fears are dismissed. But they will feel better for sharing their distress. Find out what your child knows or understands about climate and ecological issues – it is probs more than you think. Being able to discuss whatever is worrying or upsetting them with a caring adult, who is honest about these problems and the need for action, is important for containing these feelings. Because climate and ecological crises are not going to go away, it is important to make this awareness the subject of regular discussions and action with children, and regularly check-in with how they're feeling, and what they are learning at school and hearing through social media.
// Talk to them about it
We need to be honest with our children, while managing our own feelings of eco-anxiety and distress. A good starting point is reading environmentally-themed books suitable for their age. And use simple direct language. When you hear your child's fear or sadness, you might respond by firstly saying, "Tell me more about what has been worrying or upsetting you," followed by, "I understand what you are feeling, I feel sad about this too. The world is hurting, and we need to act together to do something about this. If we all act now we can make a difference to how the future will be. Let's look at some of the things we can do together, and who we can join up with to be part of a campaign for change."

// Help them turn their feelings into actions
Children want to hear that the adults who love them are committed to acting on these problems, and that we can all work together. Start at home with recycling, composting and turning off switches, then get out into the community by doing something practical like tree planting, fundraising or citizen science projects; or something political like attending a rally or writing to a politician. Find out what interests or excites your child most, and find enjoyable activities you can do together. It's important to let them make some choices, and to support any initiatives or passions they have, including attending protests. Check out charities or campaigns which have activities and resources for young people, like the Australian Marine Conservation Society or the Koala Hospital.
// Support them in their role as change-makers
Children are keenly aware of their limited powers in making ecological action happen, but they want to speak up and push the adults in their lives into action, whether it be their parents or the Prime Minister. Young people feel like they HAVE to be the change-makers because the adult world is failing to take sufficient action on their behalf. In the last 18 months the Student Strikers for Climate have been instrumental in pressing home the urgency for climate action, holding placards reading, "We are acting as adults because you are not". We NEED to support and join our children in their desire for action and change, but make it clear it is the responsibility of adults to do the heavy lifting. Your bae will feel more secure if they see you participating in community action for ecological healing on their behalf. We got this!

Top tips for helping kids manage eco-anxiety
1 // Listen fully to your child's concerns and validate their feelings.
2 // Find out what they know about ecological destructions and what most distresses them.
3 // Commit to working for ecological healing as a family and within the community.
4 // Encourage your child to choose a concern to research and adopt as an ongoing area of action.
5 // Appreciate and enjoy the natural world together, through play, learning and exploration.
Dr Sally Gillespie facilitates workshops on climate psychology and ecopsychology and is the author of Climate Crisis and Consciousness: Re-imagining our world and ourselves. PLUS, Sally has totes hooked us up with a 30% discount on her increds book with the code ADS19… #addtocart, mama!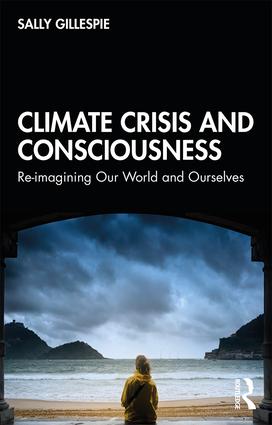 ---