By Martyna Angell
An all-time favourite soup with a smooth velvety texture and Thai-inspired flavours, this recipe has a serious YUM factor. Perfect for those winter months, the chilli adds a little warmth without being too spicy, while the coconut cream introduces an exotic twist to this classic winter comfort food. Kent or Japanese pumpkins work well because their colour and flavour is a lot more intense, but other varieties such as butternut also work well.
SERVES: 4
PREP TIME: 15 MINUTES
COOK TIME: 25 MINUTES
Ingredients
1 tablespoon coconut oil
1.5kg pumpkin, seeds removed and skin peeled
1 carrot, chopped roughly
3–4 cups vegetable or chicken stock or better still, bone broth
1 x 400ml can coconut cream
1 long red chilli, chopped, deseeded, if you prefer
1 teaspoon ground ginger
1 teaspoon cayenne pepper (optional)
TO SERVE:
4 tablespoons finely chopped coriander leaves
2 tablespoons fried shallots or toasted coconut flakes
Method
 Heat oil in a large saucepan over medium–high heat.
Add pumpkin and carrot and cook, stirring, for 3 minutes, or until lightly caramelised.
Add stock, coconut cream, chilli and ground ginger and bring to a boil.
Reduce heat and simmer for 20 minutes, or until vegetables are soft.
Take the soup off the heat and blend, using a hand-held blender.
Combine chopped coriander with fried shallots or toasted coconut flakes.
To serve, divide soup between four bowls and top with coriander crumbs.
The recipe comes from THE WHOLESOME COOK' by Martyna Angell
Polish-born health coach, blogger and cookbook author, Martyna has worked as a recipe developer for a number of local and international publishers and brands. Martyna's website and cookbook, The Wholesome Cook (Harlequin), offer a mix of wholefood classics which are based around real food and can be adapted to create options for various dietary needs.
CONNECT
Book: The Wholesome Cook 
Blog: Wholesome Cook
Instagram: wholesomecook
Facebook: Wholesome Cook with Martyna Angell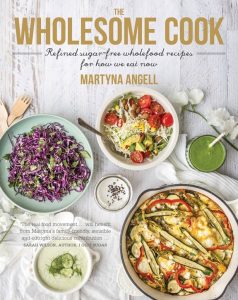 MD®
---
You may also like NOURISH: Wholesome Alternatives for Immunity-Boosting Vitamin C
and NOURISH: 12 Spices That Will Give You a Power Boost.
---